2023 Woodland Faerie Trail Opening Day
May 27
@
10:00 am
–
2:00 pm
Included with admission, free for Conservancy members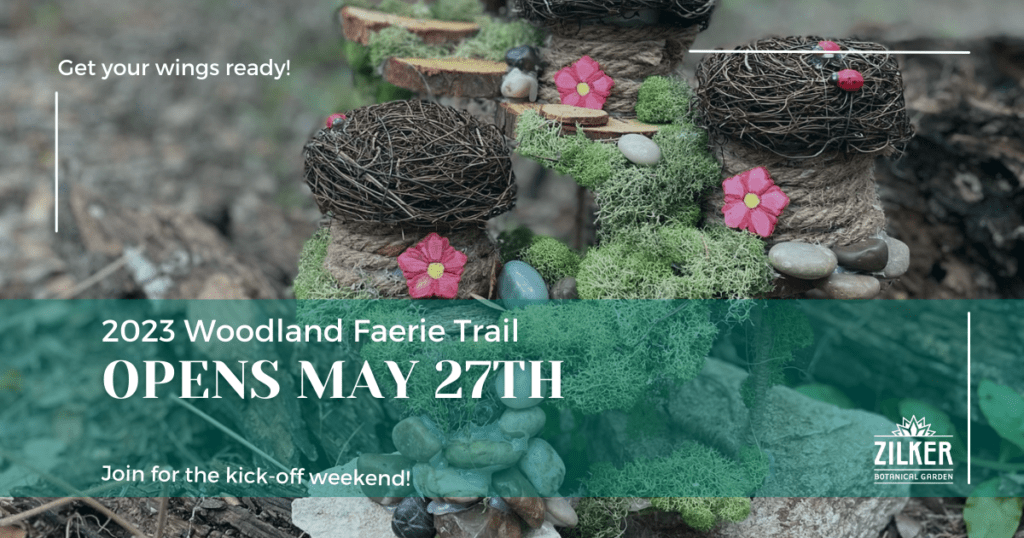 Join us for the official Woodland Faerie Trail kickoff! Explore the Oak Grove to discover this summer's community-built faerie homes, enjoy activity tables for all ages, fairy storytime, herbs from botanical folklore, and Sottish Country dancing!
Activity Tables 10 am-2 pm
Herbs from Botanical Folklore Table, in Oak Grove
Explore examples of plants featured in botanical folklore from around the world!
Fairy Wing Making Craft Table, in Oak Grove
Make your own fairy wings to wear around the garden!
Events Schedule
Fairy Flute Performer, Melissa Gail Klein, 10am-1pm, wandering performer
Herbs from Botanical Folklore Presentation, 12 pm – 1 pm, in the auditorium, presented by Lindsay Loftin (see bio)
Austin Scottish Country Dance Class: 1 pm – 2 pm, in Oak Grove, facilitated by Austin Scottish Country Dance Society Try out folk dancing from Scotland, beginner friendly and open to all ages!
Speaker bio
Lindsay Loftin is the Culture & Arts Education Specialist at the Zilker Botanical Garden and this year's Woodland Faerie Trail Coordinator. Lindsay is passionate about native and medicinal plants and the ethnobotany of indigenous cultures. She's excited to share botanical lore of her heritage lands of Scotland, Ireland, and England, and other tales from around the world.
Volunteers Needed!
The Woodland Faerie Trail relies on volunteers to make it magical. Volunteering is also a great way to support this community event and a fun way to earn free admission to enjoy the festivities! See all opportunities below: