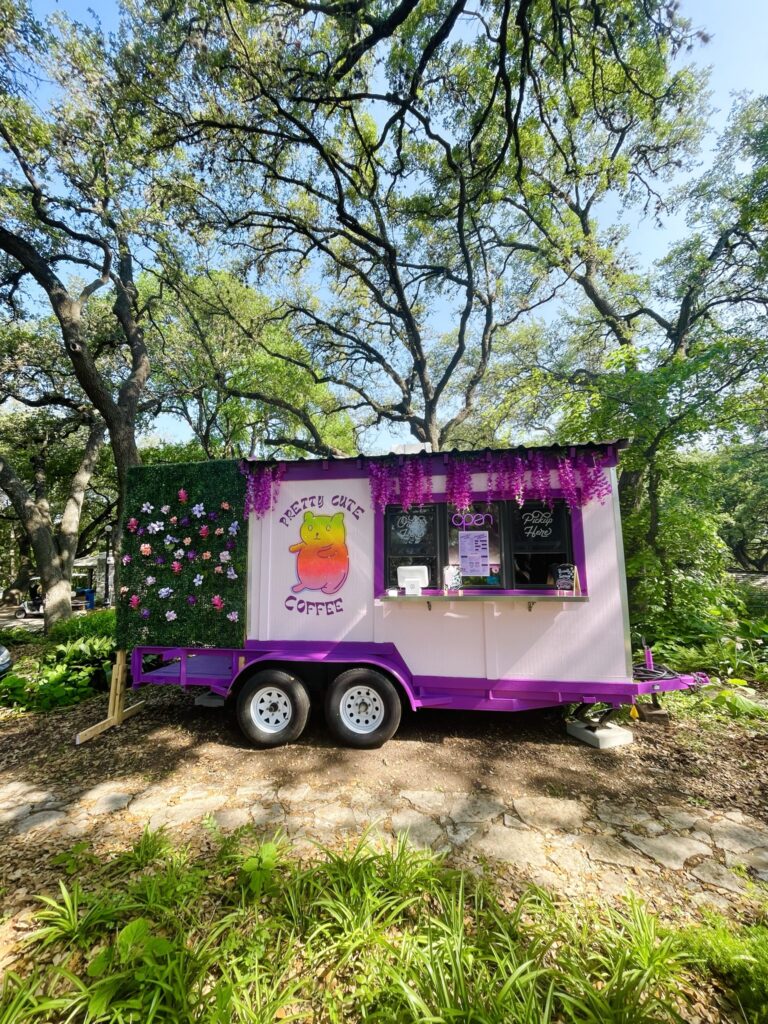 Introducing Austin's newest plant-loving coffee truck, Pretty Cute Coffee, making its home amongst the greenery at Zilker Botanical Garden. This coffee truck serves 9 specialty hot/iced lattes, a variety of cold brews, classic coffee offerings, teas, super bloom lemonades, and other non-coffee options as well.
The Concept
Alec and Wayne, co-owners of this brand new colorful truck, introduced this concept in early 2022 and opened in April 2022. The duo wanted to create something unique to Austin regarding an oversaturated market: coffee. Initially, they explored the idea of mushroom coffees but pivoted from that to plant-based ingredients and colorful displays that drew people in.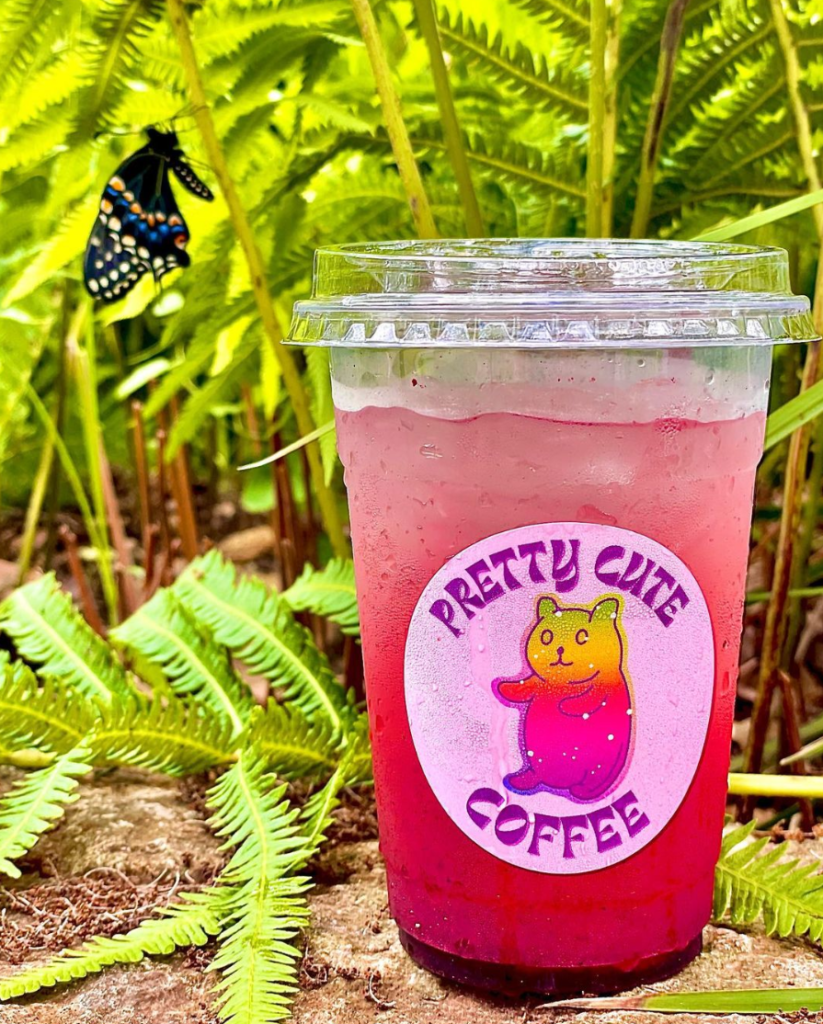 The initial conception of PCC started with the discovery of the Blue Butterfly Pea Flower. It's a beautiful and vibrant flower that many have classified as "blue matcha." After researching this flower, Alec discovered a plethora of natural flavors and colors which are reflected on the menu. "I must have experimented with thirty different types of fruits, vegetables, and flowers before landing on the nine that passed the test. There is seemingly limitless potential to create unique concoctions and pair these photosynthetic wonders with something as cherished as the coffee bean. Wayne and I are both major coffee fanatics and wanted to create something fresh and exciting. This concept also goes well with the new wave of milk alternatives that have become more popular than traditional cow milk. Oat, almond, coconut, and soy all have different flavor profiles that give each combination its own identity. Additionally, we discovered that these organic flavors and colors work well with our fresh-squeezed lemonade and offer 4 different flavors that use no artificial coloring or sweetener — Acai, elderberry, prickly pear, and hibiscus."
Why Pretty Cute?
The name behind Pretty Cute Coffee came from an early experiment with lavender and sweet potato which resulted in a pretty cute purple drink which Alec looked at and thought that's pretty cute. The idea for the name "Pretty Cute" came from Alec's phone case. It is pink, sparkly, and has 3D plastic gummy bears on the back. Oftentimes, he would receive a comment of "wow that's so cute" and after moving away from mushrooms, they decided to embrace the "Cute" genre!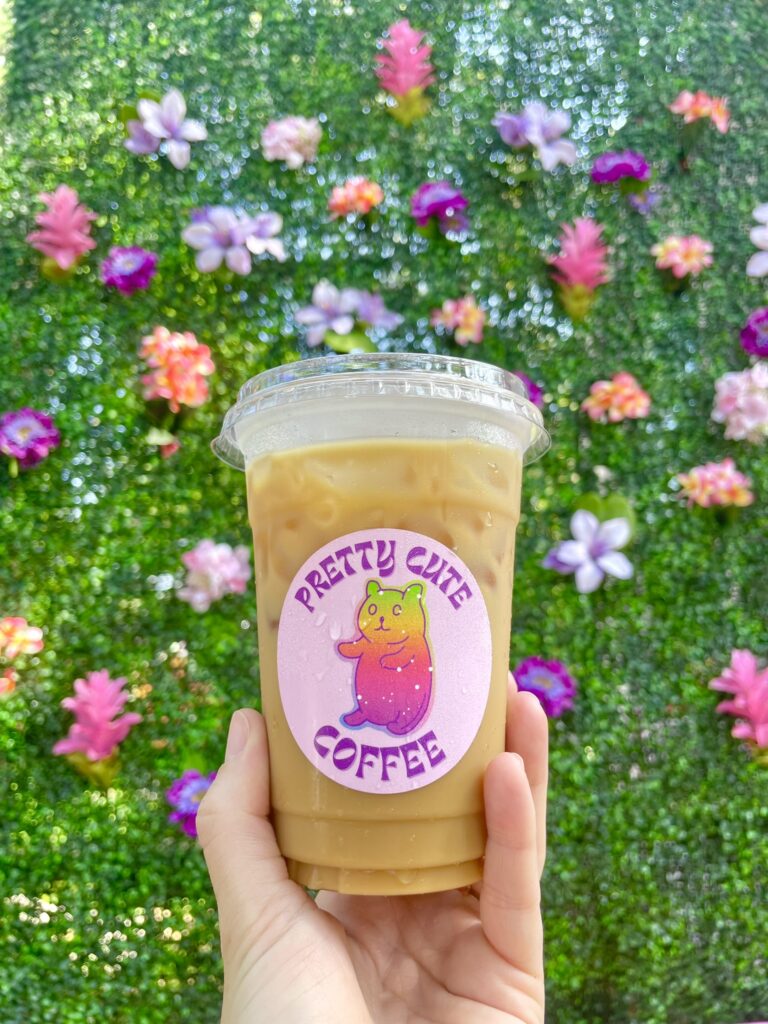 When Wayne and Alec officially decided to go with the gummy bear as the brand identity, they were sitting at Loro on South Lamar brainstorming ideas. A waitress came to drop off food and shrieked, "OMG I LOVE YOUR PHONE CASE." The two looked at each other and thought that's it.
All of this resulted in the full embracement of cute things. We all love cute things. Cute things make people happy and coffee makes people happy. Why not marry the two? AND how could we forget about one of the cutest things that makes Austin, Austin — CUTE PUPS. The Pretty Cute team is also excited to roll out their puppy cafe, where a major part of the proceeds will go directly to the Austin Animal Shelter and other animal-related nonprofits.
Choosing a Location
We felt that there is no better place for our brand than the Zilker Botanical Garden! A place that celebrates the preservation and display of Earth's greatest natural phenomena is the perfect place to enjoy our super bloom lattes. This has been such a symbiotic relationship and we hope to continue to integrate ourselves with the Garden to give the residents of Austin and tourists from all over the world an experience when they visit ZBG.
Be sure to give them a follow on Facebook & Instagram: @prettycutecoffee & @prettycutecups