Encyclias of Mexico and Beyond with Tim Culbertson
August 2, 2022
@
6:30 pm
–
9:00 pm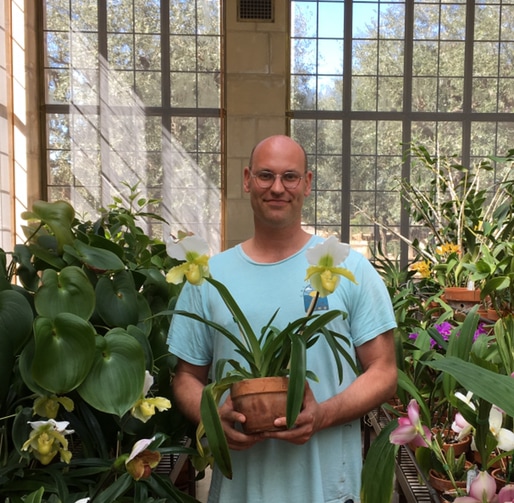 Tim Culbertson teaches middle school for a living, but one of his passions has always been plants. Growing orchids came as an offshoot from working at Longwood Gardens in Philadelphia just after college. From the beginning, it was all about Paphiopedilums, of which his collection numbers nearly 3000. Tim also does a little hybridizing, and says growing his own babies is a blast. As an accredited judge with the American Orchid Society, he has served in various capacities with orchid societies in California and the East Coast. Tim loves meeting other orchid lovers too, by traveling to shows, vendors, and peoples' greenhouses to see the latest and greatest in new hybrids and get the best orchid gossip. He has also worked at the Smithsonian Institution tending to their orchids and for years at the United States National Arboretum, collecting rare plants and documenting cultivated species and hybrids for their herbarium. In short, he really likes plants.
Tim's topic will be Encyclias of Mexico and Beyond.
Please Note: Tim will present off-site via Zoom. Participants are welcome to join us in person in Zilker Auditorium to socialize and watch his presentation on the big screen.
Interested people can email hotos.austin@gmail.com to request a link to the meeting.
*This event will be held after operating hours in the Auditorium inside the Garden Center building; therefore admission will not be charged for entry. If you are interested in becoming a member of the Heart of Texas Orchid Society, visit their website below.
Heart of Texas Orchid Society
hotos.austin@gmail.com