Rewild Your Lawn
November 13
@
6:00 pm
–
9:00 pm
Open to the public, free to attend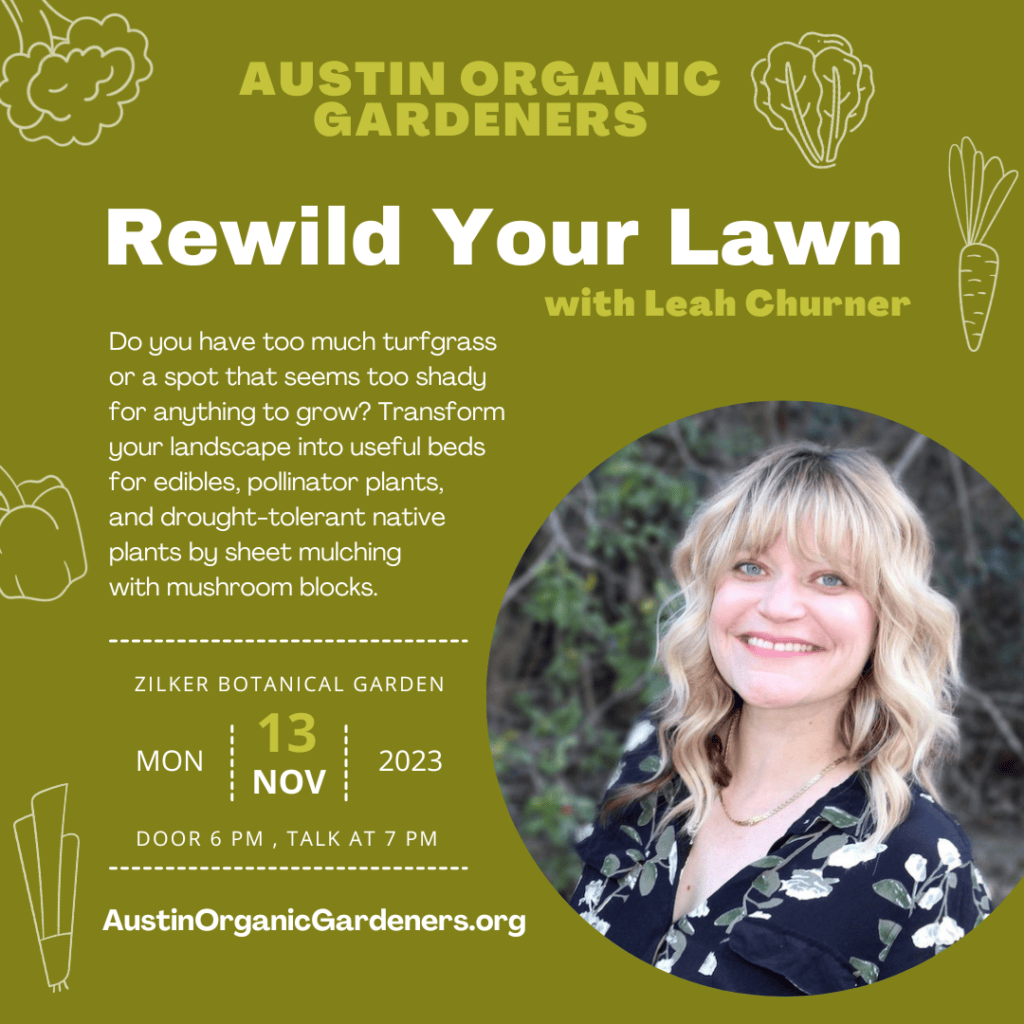 Do you have too much turfgrass or a spot that seems too shady for anything to grow? Transform your landscape into useful beds for edibles, pollinator plants, and drought-tolerant native plants by sheet mulching with mushroom blocks.

Sheet mulching is a lo-tek, no-dig, permaculture gardening practice of removing unwanted vegetation and building fertile soil by layering organic matter and letting it compost in place. While the layers suppress weeds by blocking sunlight, the soil below is allowed to regenerate.

The beauty of this simple practice is that you can do it at any time of year with materials you can source for free: cardboard, leaves, wood chips, and mycelium substrate from Central Texas Mycology mushroom block recycling program. With step-by-step instructions, you'll learn how to include decomposer fungi in your sheet mulch, how mycelium helps repair compacted soils, and how to grow some edible mushrooms in the process.

By including decomposer fungi in your sheet mulch, you can speed up the composting process, repair compacted soils, increase water retention, and maybe even get some edible mushrooms out of the deal.

Doors at 6, talk starts at 7! Don't forget to bring seeds and plants to swap afterward. If you can't make it in person we will also be streaming the event via YouTube and Zoom.
About the Presenter
Owner Leah Churner is a landscape designer with a passion for plant diversity and a background in the arts. She founded Delta Dawn Gardens in 2015. She co-hosts a weekly call-in radio show, Horticulture Hangover on KLBJ (590 AM and 99.7 FM, 8-9 am Saturdays), and a monthly garden design podcast, The Horticulturati, with Colleen Dieter. Leah gives talks at local nurseries and garden clubs and has previously taught courses in landscape design at the Lady Bird Johnson Wildflower Center and Austin Community College. Please follow @deltadawngardens on Instagram.
Austin Organic Gardeners
aogardeners@gmail.com