THE SURREAL GARDEN 2022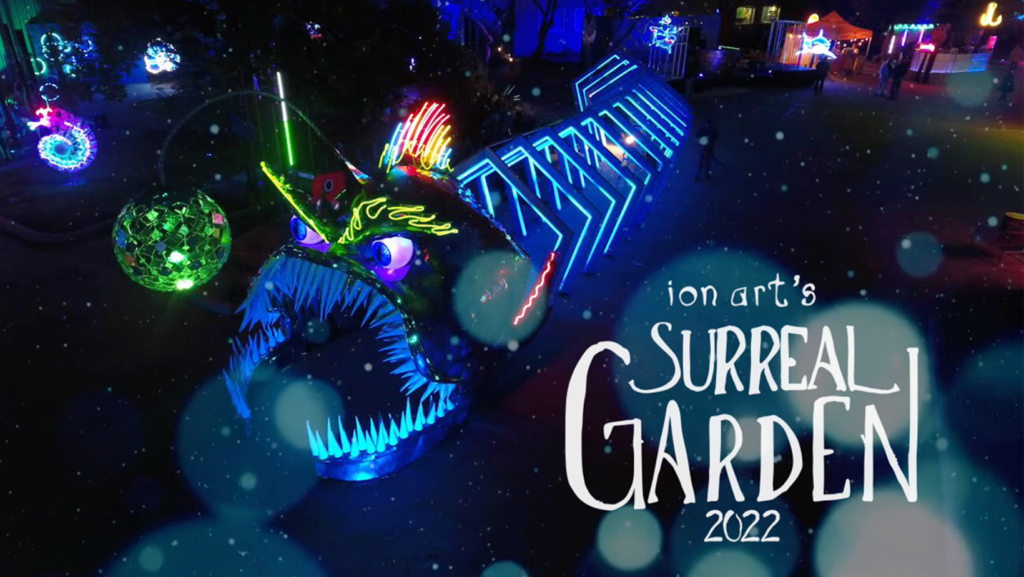 April 22, 2022
@
6:00 pm
–
April 30, 2022
@
10:00 pm
Coming Spring of 2022! Ion Art is excited to announce its next Surreal event with the debut of The Surreal Garden at the Zilker Botanical Garden. The Surreal series is an annual interactive art experience full of fantastical pieces created by Sharon Keshishian and the Ion Art team. By integrating the exhibit into the serene setting of the enchanting botanical gardens, the already stunning art event becomes a phenomenal experience and a wonderful way to benefit the Garden. For two consecutive weekends, the public is invited to attend evening soirées in the Zilker Botanical Garden, including botanical-themed neon surrealism, interactive art sculptures, local-favorite foods, craft cocktails, live music, costumes, dancing, and much more!

A portion of the proceeds of the Surreal Garden event will benefit the Zilker Botanical Garden Conservancy (ZBGC), a 501c(3) established in 2015 to advance the capacity and status of Zilker Botanical Garden. The Garden is now managed as a public-private partnership between the City of Austin Parks & Recreation Department (PARD) and the ZBGC.
……….
Event Dates:
April 22, 23, 28, 29, & 30
6:00 PM – 10:00 PM
$50 + fees + tax (At door)
Dress in your best surreal attire and be a part of the biggest immersive art experience of the Spring! Enjoy a night of neon in nature, live DJ, dancing, unlimited photo opportunities, local food trailers: Crepe Crazy, Downtown Burgers, Garbo's Lobster, Maudie's Tex-Mex, and TacoMan 512; dessert by Zucchini Kill Bakery and cash bars served by Black Sheep Lodge.
DJ's:
APRIL 22, FRIDAY DJ BYRNE ROCK
APRIL 23, SATURDAY DJ MANNY MO
APRIL 28, THURSDAY DJ BYRNE ROCK
APRIL 29, FRIDAY MIXER ROGERS
APRIL 30, SATURDAY MIXER ROGERS
We are looking for volunteers to assist throughout the Surreal Garden event during the day and nighttime as garden greeters as well as to help facilitate interaction with the art. If you volunteer for 10hr or more, you will earn 1 ticket to the event.
About Ion Art
Ion Art was founded by the husband and wife team Greg and Sharon Keshishian in 1986 with the intent of creating and selling neon art. However, over time it has grown into something far greater than that. Ion Art is a team of talented individuals with a wide range of skills, all of whom share their passion for being immersed in art, and that is what sets Ion Art apart from other "design-build" companies.
Greg and Sharon maintain their own high level of expertise in glass and metalwork. Their combined aptitudes, along with the talents of their team, enable Ion Art to produce truly unique neon art, electric signage, architectural decor, lighting design, and extraordinary environmental design solutions.
Members
Members of the Garden receive10% off The Surreal Garden 2022 tickets – new members, email info@zbgconservancy.org to retrieve your discount code.
Dress Code
Surreal or botanical-themed costumes are suggested.
Parking & Transportation
Limited on-site parking is available at the Stratford Parking Lot located at 2300 Stratford Drive. Rideshare is encouraged to prevent parking delays. The main entrance lot at 2220 Barton Springs Rd. is reserved for rideshare and accessible drop-off as well as handicap parking.
Everyone is encouraged to use pedal power—by far the easiest way to get to an event! Bike racks are located at 2300 Stratford Drive. Bring your lock.
​Find out about biking and trails in Austin at the following links:
https://www.austintexas.gov/page/bicycleprogram
https://www.austintexas.gov/page/trail-directory
​Public Transportation/Cap Metro: https://www.capmetro.org/
Purchase Policy
ALL SALES FINAL. There are no refunds or exchanges, no cancellations, no credits, no exchanges, and no transfers after the order has been made.
If the art event is canceled due to unforeseen circumstances beyond the promoter's control, it will be rescheduled. If rescheduling cannot happen, tickets will be considered a donation to the Zilker Botanical Garden Conservancy.
Covid-19 Protocol
We will follow the CDC & WHO regulations for all recommended guidelines. Any updates will be announced closer to the event date, which will be based on current CDC Guideline and City of Austin's protocols for us to host the event safely and responsibly.
Vaccinations are encouraged. We ask that all unvaccinated attendees continue to wear face coverings and practice social distancing.
Surreal staff members will wear PPE (face coverings, gloves, etc.)based on the tasks they are performing and based on direction by the local authorities.
……….
SURREAL SPONSORS
We are grateful to our event sponsors whose support enables us to present a one-of-a-kind art experience and to reach thousands of art lovers from the local Austin community.
Audacy • Mix 94.7 • Majic 95.5 • Hot 95.9 • Talk Radio 1370 • Audacy 1 Thing
Coco-Cola Southwest Beverages • C3 Presents • Yelp
Horizon Bank • Art Seen Alliance • Studio Balcones
(512) Brewing • Austin Eastciders • Anarte • AnecWines • Brother's Bond Bourbon • Dulce Vida Tequila • Tito's Handmade Vodka
Meridian Hive • Treaty Oak • Waterloo Gin • Topo-Chico • Milam & Greene Whiskey • Rambler Sparkling Water
Sugar Mama's Bakeshop • Zucchini Kill • Garbo's Lobster • TacoMan 512 • Crepe Crazy
Via 313 • Maudie's Tex-Mex • Downtown Burgers • Carabuena Tequila • 365 Things Austin
Smart Austin Realty • Frost Bank • GSG • Ventex Technology • Principal LED • Fastenal