Bicycling with Butterflies, meet author Sara Dykman
October 19, 2022
@
11:00 am
–
1:00 pm
Included with admission, free for Conservancy members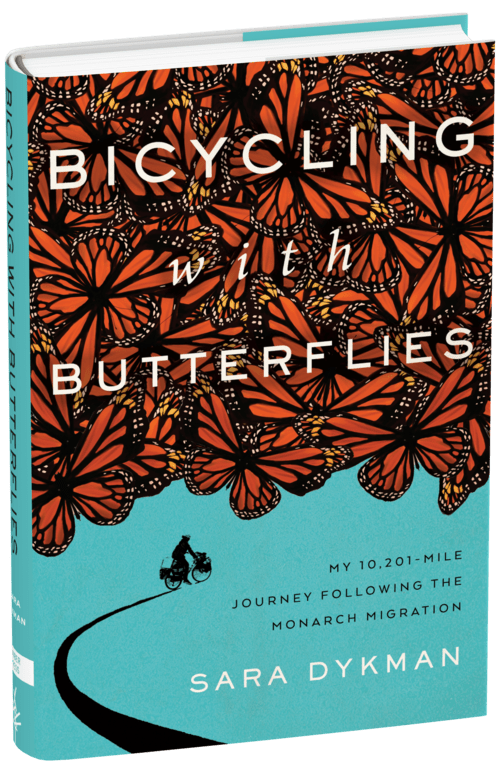 The Garden is excited to be hosting this official Roots & Wings Festival Event! The Roots & Wings Festival is held from Saturday, October 22, through Saturday, November 5, and is a community-wide celebration honoring Arbor Day and Monarch Appreciation Day in Austin. Join us in celebrating the Roots & Wings Festival on October 19th, 2022 at the Zilker Botanical Garden for a Roots & Wings-themed author lunchtime lecture! Sara Dykman, author of Bicycling with Butterflies, will be discussing her book. Learn about monarchs, ask Sara questions about her writing process, and discover the importance of habitats for butterflies and other migrating pollinators.
Sara Dykman is the founder of beyondabook.org, which fosters lifelong learners, boundary pushers, explorers, and stewards. She works in amphibian research and as an outdoor educator, guiding young people into nature so they can delight in its complicated brilliance. She hopes her own adventures—walking from Mexico to Canada, canoeing the Missouri River from source to sea, and cycling over 80,000 miles across North and South America (including the monarch migration trip)—will empower young and old to dream big.
Deftly combining travel memoir and popular science, Bicycling with Butterflies (Timber Press, April 2021) recounts Dykman's inspirational ride alongside the monarchs. The cast of characters includes eager schoolchildren, devoted citizen scientists, skeptical bar patrons, fellow bicyclists, climate deniers, unimpressed border officials, and -of course- millions of monarchs. Dykman passionately shares the urgent plight of the monarchs and the complex science underpinning their dwindling numbers. Filled with optimism, energy, and hope, Bicycling with Butterflies is a compelling story, confirming the urgency of saving the threatened monarch migration—and the other threatened systems of nature that affect the survival of us all. "It is part science, part adventure, part love letter to nature," Dykman explained. "I hope readers will come away with a deeper sense of connection to the land and be inspired to join the team taking care of our planet." Click here to learn about Sara's journey.
This will take place in the Garden Center Auditorium. Zilker Botanical Garden offers multiple special events during the Roots & Wings Festival, which are included with the price of admission and free for Conservancy members.  
This event is part of the Roots & Wings Festival, Austin's annual celebration of Arbor Day and Monarch Appreciation Day. The Roots & Wings Festival is held each fall and is sponsored by the City of Austin and partners. This year's Festival runs through November 5th. You can learn more and find more related events by visiting www.rootsandwingsfest.com.