Ikebana Workshop with Alisan Clarke
October 24, 2022
@
9:30 am
–
12:00 pm
$20
material fee, includes flowers to take home
Don't miss a special hands-on workshop with Austin's legendary Ikebana instructor, Alisan Clark. Alisan will demonstrate five arrangements, ranging from classical upright and slanting Ikenobo styles to more contemporary, free-form arrangements. All are based on the premise that beautiful landscapes in nature, captured in a vase by Ikebana, thrive when the seasons and plant roots and pollinators are in harmony. Alisan will share tips that both novices and seasoned Ikebanists will find useful. The workshop cost includes flowers to take home.
Bring 2-3 containers or bowls, several kenzans (pin frogs), plus shears and a towel to work on.
This workshop is the October meeting for the Austin Ikebana Group and is open to the public. Attendees will need to pay a $20 material fee in order to attend this workshop. This fee covers materials used as well as flowers to take home after the class.
For further information and to confirm attendance email Lynn at kc2kg@earthlink.net.
This workshop will take place in the Garden Center Auditorium.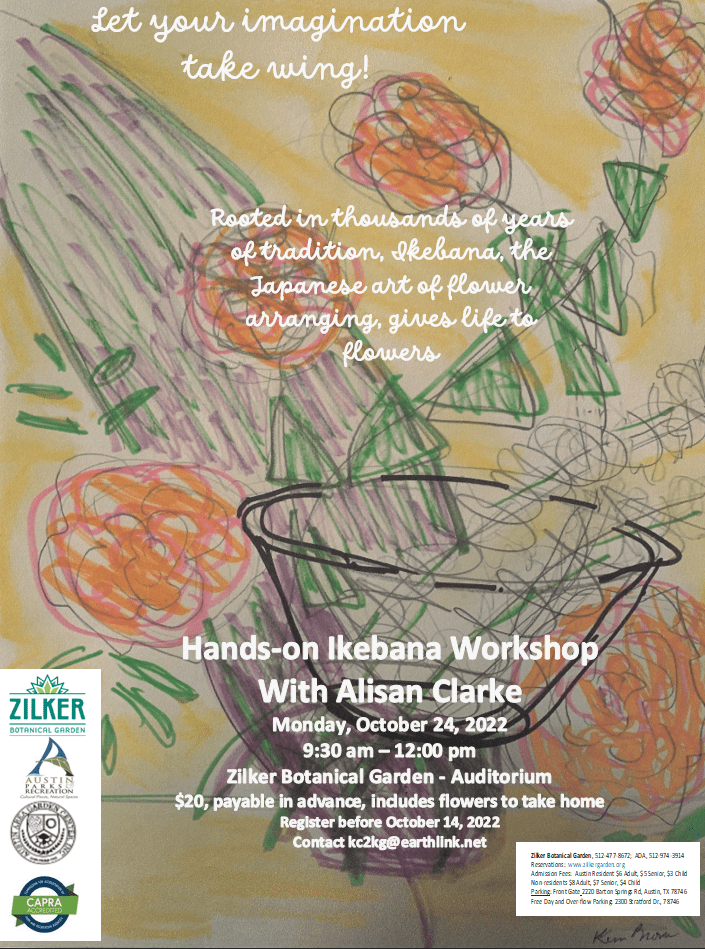 Austin Ikebana Group
austinikebanagroup@gmail.com