Roots & Wings Festival Celebration
October 29, 2022
@
9:00 am
–
1:00 pm
Included with admission, free for Conservancy members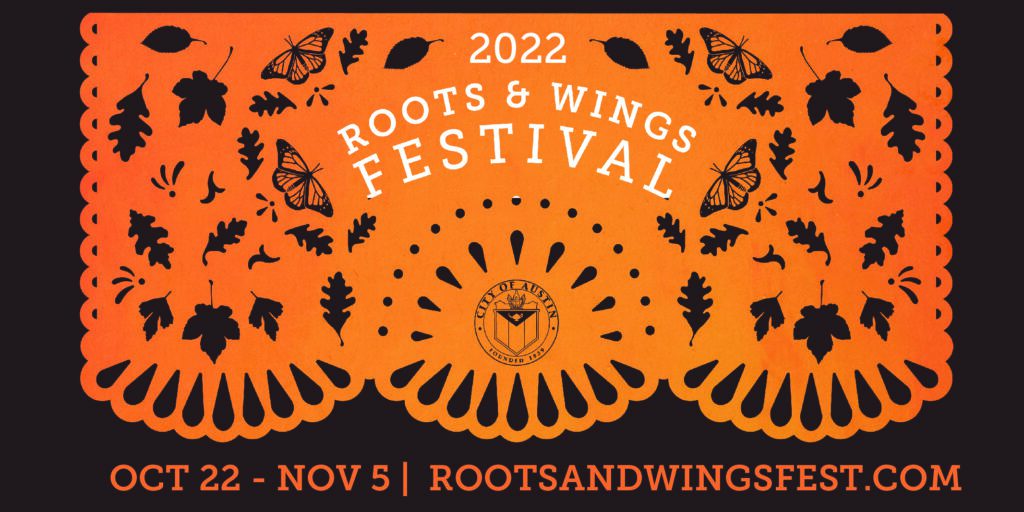 The Garden is excited to be hosting this official Roots & Wings Festival Event! The Roots & Wings Festival is held from Saturday, October 22, through Saturday, November 5, and is a community-wide celebration honoring Arbor Day and Monarch Appreciation Day in Austin. Join us in celebrating the Roots & Wings Festival on October 29th, 2022 for the Roots & Wings Celebration at Zilker Botanical Garden.
Don't miss as our special event host Professor Pricklethorn provides educational entertainment at the Oak Grove stage. Walk through a butterfly tent with live butterflies, tag a monarch butterfly to support scientific research, witness a butterfly release, visit our hummingbird garden to learn about hummingbird feeder care and planting native hummingbird attracting plants, learn about how to make a bat house or solitary bee habitat in your yard, dissect a dead log to learn about the value of trees in forests, and so much more!
Explore the Garden and search for pollinator icons to learn about over 40 plants that sustain different stages of butterfly lifecycles, attract hummingbirds, or support bees!
There will be giveaways including transplants of pollinator plants and wildflower seed packets.
Themed event tables and activities open at 9 am and will be closed at 1 pm.
9 am-11 am: Volunteer with the Violet Crown Garden Club and help plant pollinator plants in the Children's Garden. Register in advance via this link.
9 am-1 pm: Join in the Oak Grove for monarch banding and tagging and fun family-friendly activities for all, and even walk through a tent with 200 live butterflies.
9 am-1 pm: Kids Tree Climb-Climb high into the canopy with Urban Forestry staff for a special kid's tree climb near the Swedish Log Cabin.
9 am-1 pm: Meet a Bat with Austin Bat Refuge. Join Lee Mackenzie and Diane Odegard, co-founders of this nonprofit and learn all about local Austin bats!
9:15 am Professor Pricklethorn reads the Proclamation at the Oak Grove stage
9:45-10:25 am, 12-1 pm: Family-friendly live music performances by Melissa Gail Klein and the Morning Dew at the Oak Grove stage.
10:30-11:30 am: Join as Professor Pricklethorn gives an entertaining educational presentation about trees at the Oak Grove stage.
11:30-11:55 am: Come hear local children's book author Tania DeGregorio read her book Skydancer for a special story time at the Oak Grove stage.
12pm, 1pm: Join us for 2 Monarch releases in the pollinator garden.
Zilker Botanical Garden offers multiple special events during the Roots & Wings Festival, which are included with the price of admission and free for members.
This event is part of the Roots & Wings Festival, Austin's annual celebration of Arbor Day and Monarch Appreciation Day. The Roots & Wings Festival is held each fall and is sponsored by the City of Austin and its partners. This year's Festival runs through November 5th. You can learn more and find more related events by visiting www.rootsandwingsfest.com.